Who's "in the middle" of this editing gaffe?
Correction: An earlier version of this post identified Pacific Newspaper Group as an advertising subsidiary of Postmedia Network Inc. that acts as a photo service. Pacific Newspaper Group is a division of Postmedia and photographers work in the newsrooms. It also stated that Postmedia has centralized editorial duties in Hamilton, Ontario, but some copy editing duties are still done in the newsroom.
Do you have a difficult time identifying athletes in photos? Never fear, Vancouver's the Province and the Sun have you covered.
Last week, both newspapers posted a photo of prospect Jordan Subban celebrating his first NHL exhibition goal as a Vancouver Canuck. The photo—credited to Steve Bosch of Pacific Newspaper Group, a division of Postmedia Network Inc. —identified Subban as the "dark guy in the middle," squeezed between four happy teammates.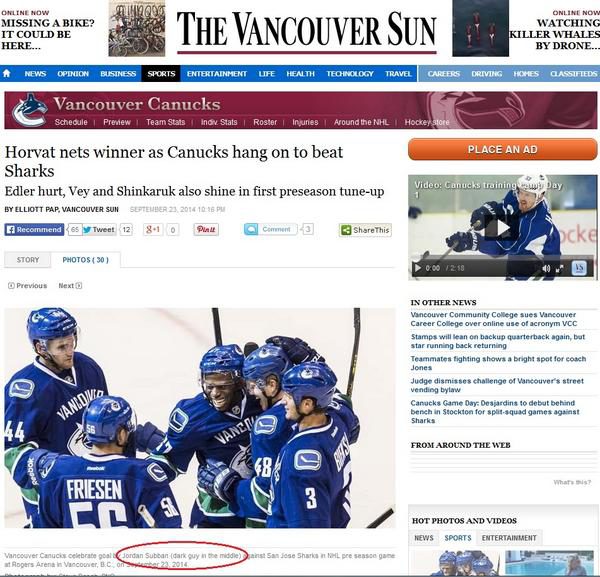 The caption lived for all of 15 minutes before being called out by readers on Twitter. Both newspapers quickly apologized both publicly and privately to Subban.
As the same caption ran on both websites, it likely came from somebody outside the newsroom and was missed by a tired, overworked editor. CBC's Ian Hanomansing and Shane Foxman speculated as much, chuckling at the gaffe, while Carly Weeks with The Globe and Mail suggested  it was a lazy caption that relied on the lowest common denominator as a way to identify someone. There's no real excuse here, but there is an explanation.
But as Yahoo! blogger Neate Sager points out, this error highlights the deeper issue of copy editing in Canada's dailies. Today, most of Canada's newspapers have centralized or outsourced their copy editing duties. Quick online stories aren't always vetted. Australian Associated Press subsidiary Pagemasters North America edits giants such as the Toronto Star and the Globe, while Postmedia 's 10 newspapers have centralized much of their print editing in Hamilton, Ontario. Too often, this makes readers the first judges of quality and credibility, leaving the paper open to public shaming. Removing the protective step of in-house copy editing is like leaving your shoes untied—you may go along fine for a while, but at some point you're going to trip up.
If running whatever caption sent in by the photo service is common, anybody could have missed it when posting the story at 10 p.m. There were probably editors around the country wiping their brows the next day, thinking, "I'm glad that wasn't me!"